---

View The Fayetteville Elementary HSA Calendar
---
Thanks for being visitor:
since 08/21/2019
---
The HSA is starting a new November gratitude activity for the students - Trees of Gratitude. We will display 5 large trees (one for each grade) in the cafeteria. With the help of the Fay El teachers, each student will be cutting out a leaf and writing what they are grateful for on their leaf. We need your help in hanging up the trees (they are decals) and hanging up 471 of the students leaves around the trees! The HSA will provide some sweet treats and beverages as well. Beyond November, we plan on keeping the trees up and changing the "leaves" for each season, celebration, etc. There are many ways we could use the trees to invoke thoughtfulness, kindness and other positive messages for the Fay El Students & Staff! Please help us hang up these Trees of Gratitude to get this new tradition going. The sign up genius link is below.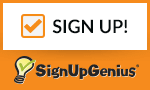 Support Fay El While You Shop!
Add Fayetteville Elementary Home and School Association as your charity on Amazon smile.
https://smile.amazon.com
Scan your receipts for Box Tops:
https://www.boxtops4education.com
---